About Electric Distributors Incorporated
EDI is a 3rd generation commercial/residential electrical supply house that was acquired in 1984 by Domenick Petrocelli. In 1997, his son, Louis J. Petrocelli, became the owner of this 15,000 square foot location in Ridgefield Park, NJ. Since then, EDI has experienced dynamic growth under his leadership over the past ten years.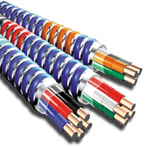 Louis graduated with a BBA from City University and further went on to receive his MBA from St. Johnís University. After graduating, he worked as a finance officer for Petrocelli Electric for two years. Then looking to expand his horizons, he began working for ILMS Realty Association where he bought, sold and managed real estate acquired in Brooklyn and Manhattan. Amidst his busy schedule, Louis enjoys giving back to the local community by supporting various organizations such as: The Little Ferry Boys Club, Bergen County Police Department, Ridgefield Park Little League, Boys' Towns of Italy and Ridgefield Park Police Department.

Affiliations
EDI is proud to be a member of the NAED .



EDI is a union shop and all of their Employees are
proud Members of IBEW Local #3.